Office of the Vice Provost
A statement from Vice Provost of Student Health and Well-Being Kevin Shollenberger:
Personal well-being is a concept as multifaceted as we are. From physical health to financial stability, from the spiritual to the social, all aspects of our lives have an effect on our sense of well-being. As Vice Provost of Student Health and Well-Being, I am honored to work with a team of higher-ed professionals dedicated to supporting all aspects of our students and trainees' well-being, and helping them develop tools and practices to be successful during their Hopkins experience and to serve them beyond graduation.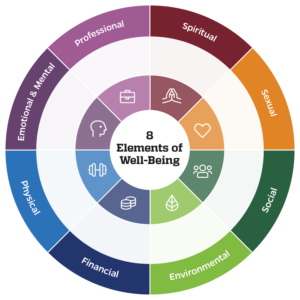 Student Health and Well-Being (SHWB), established in 2019, is a direct organizational change as a result of President Daniels' Task Force on Student Mental Health and Well-Being, originally formed in 2016. With recommendations released in 2018, the Task Force assessed the state of mental health resources available, reviewed current research on effective strategies for mental health promotion, and made recommendations on how the University can better support the mental health needs of our students and trainees. Please read this document to learn more about the University's ongoing investments to implement recommendations from the Task Force.
Our well-being wheel (pictured at right) serves as a visual guide to better understand the eight elements of health and well-being, which are inherently interconnected and symbiotic.
Key to our mission in Student Health and Well-Being is ensuring that all of our students and trainees have equitable access to Johns Hopkins University's well-being resources. Our core values of trust, respect, and collaboration are essential to the work of our division; thus, we are committed to upholding the highest standards of diversity and inclusion in both our services and outreach. I hope you take some time to explore all that Student Health and Well-Being has to offer, and that you feel empowered to prioritize personal well-being in your day-to-day life.