Physical Well-Being
Overview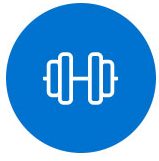 Sleep, nutrition, and physical activity are core components of well-being. Sleep improves memory and learning, enhances your productivity, and helps regulate your emotional and mental well-being. Eating nutritious meals every day can help you feel energized and promote your overall health. Lastly, physical activity can help relieve stress, regulate your emotional and mental well-being, and is a great way to give yourself a break from classwork. As a college student, it can be difficult to get enough sleep, eat nutritious meals, and exercise regularly. Find programs, tips, and resources for promoting your physical well-being:
Physical Well-Being Workshops
Health Promotion and Well-Being physical well-being programs include topics focused on sleep, body image, nutrition, and yoga. Check our list of physical well-being workshops here.
To request a workshop fill out our form here.
Resources
Free Menstrual Products on the Homewood Campus
JHU Resources
Community Resources